EnerSmart Building Systems Inc. (EnerSmart) manufactures and supplies Structural Insulated Panels (SIPs) for residential, commercial, and industrial construction. Our panels provide builders and homeowners with a prefabricated, energy efficient, structurally superior, environmentally friendly, and easy to install building system. We are an affordable and high performance alternative solution to traditionally framed or "stick built" building envelopes. To learn more about EnerSmart SIPs, please take a moment to check out: "About SIPs". Our manufacturing facility is located in Claresholm, Alberta which allows us to competitively service all of western Canada due to its central location.
At EnerSmart, we have two main goals:
To take the already proven technology of SIPs and make it easier, better, and more affordable.
To provide the best customer service in the business, regardless of how large or small the project.

All of our past and existing clients will tell you that these two things are what clearly sets us apart from our competitors. That being said, any company can lay claim to how great they are but we believe that the proof lies within a company's customers so please feel free to contact EnerSmart's customers yourself: "Read Testimonials". Starting a business and manufacturing the panels is the easy part. Making sure the process is seamless and enjoyable for the customer is the difficult part and that's why EnerSmart goes the extra mile when it comes to support and service. The construction industry is widely known for delays, excuses, overcharges and downright headaches. Let's face it, building a house or other structure can be very stressful whether you're doing it yourself or through another party. At EnerSmart, we take pride in the fact that we can at least make the building envelope part of the process easier and less stressful. While the building envelope may be considered a minor part of the overall build process, any builder or expert will tell you that it is actually the most important part of the build. After all, this is the structure of your building and who wants to occupy an inferior, heat consuming building? In the past, there were very limited options other than "stick framing" but now that products such as SIPs are available, it is time for change. Thank you for visiting our website and hopefully we will hear from you on your next project!

---
Wyatt Bridge – Owner – Operator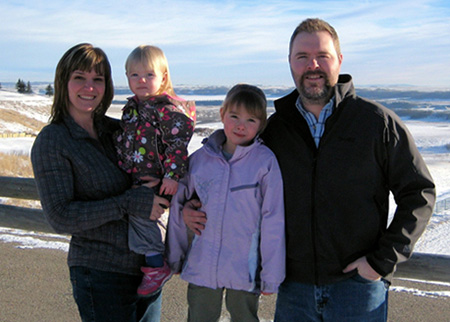 Wyatt was born and raised just outside the town of Fort St. John, BC but now resides in Cochrane, AB with wife, Carolyn and daughter's Katelyn and Cassidy. Wyatt's college background is directly related to the oil and gas industry but he discovered very early on while working for a Calgary engineering and fabrication firm that sitting in an office all week just wasn't for him, regardless of the earning potential that accompanies the oil and gas sector. He decided to pursue a career in the construction industry which had always been his passion since the early days of working alongside his father, a Fort St. John contractor. It was at about this same time that Wyatt discovered SIPs. He was instantly fascinated with their ease of construction, energy efficiency, strength, and affordability. Since 2002, Wyatt has been fortunate enough to be involved with every aspect of the SIP industry including sales, marketing, estimating, contracts, purchasing, logistics, fabrication, installations, and project management. It is because of this experience coupled with co-founder Chris McLaren's experience in building a successful business in the construction industry that they decided to launch EnerSmart Building Systems in 2013. In the spring of 2015, Wyatt purchased Chris' shares in the company is now the sole owner of EnerSmart Building Systems Inc. The two remain close friends and Chris continues to use EnerSmart SIPs for the purpose of his home building company (Fine Line Homes Ltd.).